About the All-on-4® Treatment Concept
Posted on 5/1/2017 by Dr. Franco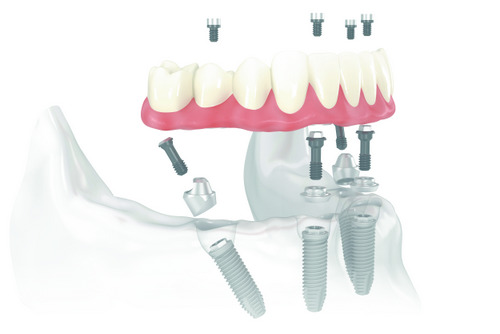 Dentures are frustrating. From altering your speech, to using caution while you chew, and the constant fear of them coming loose, there has to be a better way. If you need the function of dentures, but do not want the frustration that comes with them, the All-on-4® Treatment Concept will improve your quality of life. Our staff at BiteLock, along with oral surgeon Dr. Franco, will evaluate and then work with you to create a treatment plan that will permanently retain your dentures in your mouth.

Traditional dentures are a necessary tool when a patient has lost all of their healthy teeth. It allows them to chew food, provides needed oral structure, and improves their speech. The downside to dentures is how they fit in our mouth. Without surgical retention, patients are left to rely on suction and adhesives, neither of which are reliable or long lasting.


How All-on-4® Treatment Concept Works

The All-on-4® Treatment Concept begins with an evaluation. We will want to review your medical history and determine if your health will allow you to heal in a timely manner. Healing is the most important element in this process. We can work with your personal physician to adjust medications or discuss how you can increase your rate of healing before surgery. Once a treatment plan is decided on, the entire surgical procedure is completed in just one visit.

Most implant procedures require a preparatory procedure known as a bone graft, but not for the All-on-4® Treatment Concept. Even if you have been wearing dentures for years, the amount of bone mass is not a determinant for surgery. This is because the implants used in the All-on-4® Treatment Concept are different, they are longer and placed at a precise angle to allow for more contact and a firm placement.

Implants are a titanium post that Dr. Franco inserts into your jawbone. Titanium is the metal of choice by surgeons for repairing bone all over the human skeleton, including the knees, shoulders, hips, and more. We use titanium for several reasons, including that it is a very strong yet lightweight metal and most importantly, it's biocompatible. This means that your body will not reject it as a foreign object. In fact, your body will heal around it fusing it to your bone in a natural process called osseointegration. The term osseo refers to your bone, and integrate means to take in or become one with. This process is why your ability to heal is vital to this procedure. We need your body's natural healing process to heal at a normal rate so that the implant can become firm.


The All-on-4® Treatment Concept Procedure

With a treatment plan in place, Dr. Franco will first anesthetize you with an appropriate anesthesia customized to your needs. Once comfortable, Dr. Franco will open the tissue, exposing the bone. Using a specialized drill and predetermined map, Dr. Franco will create the space needed in the bone to insert the implants. After placing the implants, the area is sutured closed. It really is that simple. In one day, you can have your dentures permanently retained in your mouth.