All-on-4® Treatment Concept: A Minimally Invasive & Safe Procedure
Posted on 5/1/2017 by Dr. Franco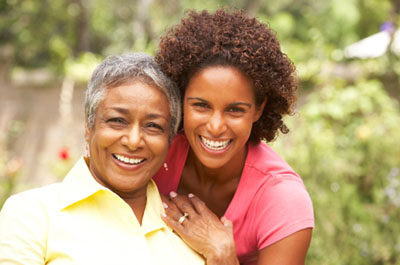 A concern for many of our patients who require dentures is the invasive procedure of surgery. These concerns may stop them from considering implant retained dentures. At BiteLock, we understand these concerns, and take your medical and health needs very much into consideration. Dr. Franco is happy to meet with you and review your medical and dental history, we will evaluate your oral health status and together, we will design a treatment plan that takes you and your needs into consideration.


The All-on-4® Treatment Concept Procedure

With the All-on-4® Treatment Concept, we take your denture, either one that you are already wearing, or one that we can create for you, and then Dr. Franco permanently attaches the device using metal implant posts to your jawbone. This sounds extreme, but the process is fast and easy, with limited discomfort. Most importantly, patients who have had their denture retained with implants will never have to deal with having their denture cover the roof of their mouth, or have their denture held in with suction or adhesives.

Your implant retained denture will feel and function much like your own natural teeth once did. With this system, our patients are able to eat their favorite foods and never have to worry if their denture will stay in place. You never have to remove your denture device, even when you sleep. Your teeth can stay where they belong, in your mouth.


Dental and Medical Needs

Patients have many questions about their health when planning to have their denture secured with implants. From bone deterioration to declined healing ability and medications that you are taking, we can offer solutions. Our staff at BiteLock can provide even our most medically sensitive patients this minimally invasive, safe, procedure. Implant retained dentures provide a patient:

| | |
| --- | --- |
| • | Teeth that are permanent: Our bone is a living tissue, and it has an amazing healing process known as osseointegration that we take advantage of to make this process work. Following the placement of your implants, your body heals, and as it heals, it creates connective fibers around the implant, fusing the bone and implant together. This process works to make the connection between the implants and bone a firm and permanent part of your body. |
| • | We can work with bone that has deteriorated: Many implant procedures require a bone graft, adding months of time to the end result. The All-on-4&reg Treatment Concept uses implants that are longer and angled in such a way that they reach stronger, denser bone, so no bone graft is needed. |
| • | Protects your bone: You may not be aware of this, but when you lose a tooth, there is an immediate loss of bone mass, and the bone continues to shrink with time. Patients who wear standard loose dentures find that they require frequent adjustments because their facial shape is continuously changing. Having your denture permanently retained means adjustments are not needed. You will also lose less bone because there are four points in which the bone is being stimulated with the motion of chewing. |
| • | Safe: Though the All-on-4&reg Treatment Concept sounds complicated, it is actually only minimally invasive. No hospitals, and many patients find that they can resume regular activities within a few days. |

The All-on-4® Treatment Concept is not done in a hospital, and you will not be put under for treatment. In fact, this system is known as a minimally invasive procedure: cuts are made, but the patient is fully awake throughout the process and post-surgery is very simple. The All-on-4® Treatment Concept allows us to surgically retain your dentures for a permanent and firm fit. Dr. Franco is able to retain your dentures whether you are new to dentures, or have been wearing them for years. This procedure does not require a bone graft and is approved for a variety of patients with a variety of needs, including those who have sensitive medical needs.