Dentures: Not a Long-term Solution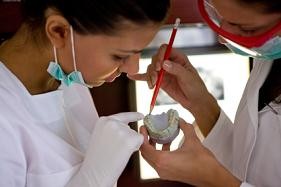 Taking thorough care of your teeth should be an important part of every day. This is true for people of all ages, and putting a daily routine in place can help keep your teeth strong and healthy. Sometimes, however, you might end up needing to have a tooth extracted. When this happens, the way you think about your oral health should shift a bit. Instead of worrying over cavities and the like, your concern should also include how to replace the space left by the tooth to maintain a natural bite and keep the rest of your teeth in good shape. At BiteLock, we understand that the process of picking from the various teeth replacement options can be overwhelming. We can help.


Dentures

One of the most common replacement options selected by individuals is the denture. Dentures are essentially bits of acrylic that are shaped to look like teeth and gums and are then dyed to match. They fit over your gums and stay in place using suction and gravity, and are removed every night before you go to bed. This might seem like an appealing option, especially if you do not enjoy the prospect of any procedure that could leave you with recovery time. We understand that you would prefer to spend your time living life rather than recovering from oral surgery. With that said, we do not believe that dentures are a viable long-term option.


Dentures in the Long-term

While dentures can work well to give you a semblance of a natural smile and functionality back in the short term, it is important to note that they do not promote good oral health in the long run. That is because dentures can negatively impact your gums, especially if the dentures rub your gums while you wear them. This can lead to inflammation or even tissue loss, which is certainly not ideal. Even more than that, however, is the fact that dentures do not give you full functionality back. When you wear dentures, you are unable to speak and eat as naturally and clearly as you would be with natural teeth. In fact, dentures can impede these activities rather than help promote them.

Instead of dentures, you might consider investing in something like dental implants. Dental implants work well to restore functionality to your mouth, and work to promote good oral health when it comes to your jaw and your mouth in the long run. Because they eventually fuse with your jawbone, implants become part of your mouth and function just like natural teeth. This helps ensure that you do not lose bone and tissue, and also enables you to maintain a normal schedule and a high quality of life. While dentures might work well in the short term, they do not provide this kind of benefit.

For more information about dentures and dental implants, contact BiteLock today at (972) 594-7414! Our professionals are happy to answer your questions and get you scheduled.