Improved Quality of Life with the All-on-4® Treatment Concept
Posted on 5/1/2017 by Dr. Franco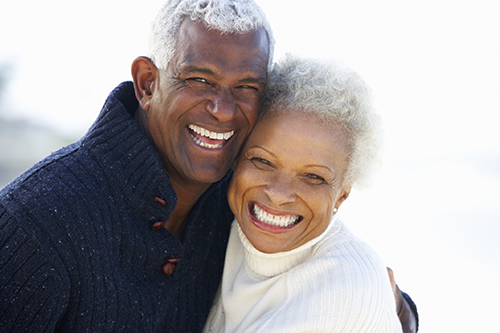 Though necessary, dentures only provide patients with very limited function. At BiteLock, we can take your dentures, either the ones you are currently wearing, or new dentures that we can create for you, and vastly improve your quality of life, by allowing you to forget that they are even there. We take traditional loose dentures, and permanently fix them to your mouth, helping them feel and function like your natural teeth. Using the All-on-4® Treatment Concept, we can surgically retain your dentures with four dental implants, giving patients more function, allowing them to eat the foods they loved, without the fear of them ever coming out. Our team at BiteLock will evaluate your gums and entire oral cavity, then working with oral surgeon Dr. Franco, you will discuss a treatment plan that is designed for you and your needs.


Traditional Loose Dentures

Dentures have existed in some form for thousands of years. They have always been viewed as something a person may need, but only as a very limited solution to the problem. In general media, in movies, sitcoms and more, dentures are often a joke and a sign of old age. They are plastic molded teeth and gums, and in TV show comedies, they seem to always come out, or are missing. This joke comes from the traditional ways in which dentures are held in place. Using suction or adhesive, dentures are set in your mouth. They allow you to chew soft and simple foods but are known for frequently coming loose or rocking around in your mouth, causing embarrassment and sore spots. The most known marketing campaign for denture products, including adhesives, is whether the wearer is able to eat corn on the cob using their product. We can tell you the answer, they can't. In fact, people who wear dentures will tell you that they are only marginally functional. Research tells us that most people with traditional loose dentures often feel high social anxiety and frustration due to their dentures. Dr. Franco can relieve your anxiety, and help your dentures feel and work like your own teeth.


All-on-4® Treatment Concept

Dr. Franco can take those same loose dentures and permanently attach them using the All-on-4® Treatment Concept. For our patients, this means that they will no longer have loose dentures, need adhesives, or rely on suction to keep the appliance in place. The dentures are permanently secured with four dental implants each in your upper and/or lower arch.

In most dental implant procedures, the patient is required to have a bone graft procedure done in order to have sufficient bone mass for implantation This process can add months to the treatment process. The All-on-4® Treatment Concept doesn't require a bone graft. This process uses longer screws and places them at an angle that allows for more strength, Dr. Franco is able to place this longer metal implant post into denser, thicker bone.


How does the All-on-4® Treatment Concept improve the quality of my life?

Following the permanent placement of your dentures, there will be a period of healing. Both tissue healing, which should be a matter of days, but also bone healing, which can take up to six months. While your bone is healing, you will need to chew with caution. While the bone heals, it will heal around the implants, fusing the bone and implants together due to a natural physical response called osseointegration. Once this fusion has taken place, the implants will remain firmly in place. Your denture device will be stable and strong, allowing you to speak confidently, chew the foods you once loved, and feel secure in permanent teeth.