Types Of Dental Implants
Posted on 5/1/2017 by Dr. Franco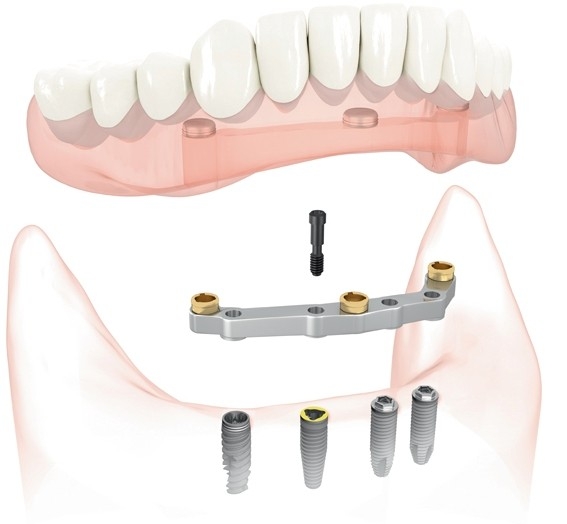 Here at BiteLock, while we are sure that you would love our advanced denture system involving permanence and comfortability, we know you have many different options for your oral health needs. If you don't think that our denture system procedure is right for you, we will help you to find an alternative that will make you happy, confident, and comfortable again. Whether you are dealing with one tooth loss or several, we can help you to get right back on track to minimize discomfort and decrease the risk of potential other problems with the surrounding teeth.


Implant Material Varieties

Depending on your specific oral needs, requests, and physical deficiencies (if there are any), there are different options available for your implants. For example, there are different materials with which we can make your implants. Generally speaking, we use titanium posts for our implants. However, some people either do not want them or physically cannot have them, as 4% of people are allergic to titanium.

If you are allergic to a material used in our procedures, obviously, we will not continue with it in the way that perhaps we ordinarily would. In these types of situations, there are alternatives that we can utilize, such as Zirconia instead of Titanium. Zirconia is a ceramic appliance rather than metal, and will not have the same issues with allergies, nor is there any risk of deterioration over time.


Endosteal vs. Subperiosteal Implants

There are also two types of implants that you can get, not including the material that they are comprised of. For example, you can get Endosteal implants. These are the ones that you hear about most often and are the ones that are installed directly into your jawbone. These are the industry standard and are shaped like screws usually, but can be shaped like plates or cylinders as well. However, there are patients whose jawbone is not thick enough to support such an installation. These patients can either get their jawbone rebuilt through bone grafting, or they can get Subperiosteal implants. These do not go into the bone but do go under the gum line. These can be used in much the same way, though, as the others can, for crowns and other types of abutments.


Implant Size Differences

All varieties of implants can also come in different sizes. Whether you have a large or small mouth or a thick or shallow jawbone, our team will find the perfect fit to help you get back on track. Even if you are just getting a standard crown or bridge rather than our impressive denture system, we can still make sure that you are comfortable and healthy once more.

We are experts in our fields, and here at BiteLock, you come first. Our team will cater to your needs and make sure that you are happy with whatever procedures you undertake. You are in the best possible hands, and we can find your perfect fit. If you have and questions, comments, or concerns about your upcoming procedure or process, be sure to call us at (972) 594-7414 and set up a consultation or appointment today, and we will get you fully taken care of!