Why All-on-4® Treatment Concept is Better than Dentures
Posted on 5/1/2017 by Dr. Franco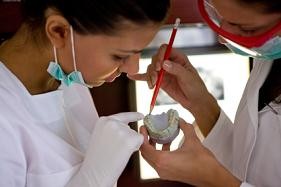 Dentures fulfill a basic necessity. We all need to be able to chew our food in order to get the range of vitamins and nutrition we need to be healthy. The problem is, dentures alone can never be a perfect solution. Without an anchor, dentures rely on staying in place with suction or adhesives, neither of which are reliable or long lasting. The All-on-4® Treatment Concept provides the anchor we need to have long lasting stability so that your denture can be functional. Our team at BiteLock, under the direction of oral surgeon, Dr. Franco, can give you that stability. We can help your dentures permanently stay in place.


Replacing Missing Teeth With Dentures

People have tried to replace missing teeth for about as long as man has been on this planet. Scientists have uncovered human attempts at replacing teeth with shell, wood, metal, and more that are centuries old. The need to restore teeth has been part of our health needs all along. The difficult part of this need is that it hasn't been terribly successful.

From poor placement, to poor function, and even the body rejecting the materials, dentures have never been noted for their comfort or ease of use. Dentures have been laughed about on TV, in movies, and in literature. We all have this image in our heads of the elderly person who frequently loses their denture, or that it comes out while eating. Unfortunately, these hassles come with some level of truth. Many people find dentures to be a frustrating adventure. They experience problems with their device coming loose, shifting around in their mouth, causing sore spots, and not being able to chew naturally. Studies show that patients with dentures even pull back socially, afraid that their dentures will embarrass them. The All-on-4® Treatment Concept is different.


The All-on-4® Treatment Concept Anchors your Denture

Dr. Franco is able to stabilize your dentures by providing an anchor. Following your evaluation, we will create a treatment plan that places four dental implants into your jawbone. These implants are titanium posts that will serve as new tooth roots, creating a strong connection between your jawbone and your denture device. Decades of research has gone into this study, along with using metal for corrective surgeries all over the human body.

Titanium is a strong metal, that is also lightweight, and has the unique property of being biocompatible with your body. Studies have shown us that your body not only heals, but will create connective links to the titanium, blending your bone tissue and the metal together to make a strong hold. This process allows us to anchor your denture device, and for you, that means that your dentures will feel and work like your own natural teeth.

The All-on-4® Treatment Concept is not just a step higher in comfort and quality, it is many steps higher. It is the difference between thinking about your teeth with every bite and forgetting that you ever even had a problem to begin with.